A CHRISTMAS TRIBUTE TO SENIORS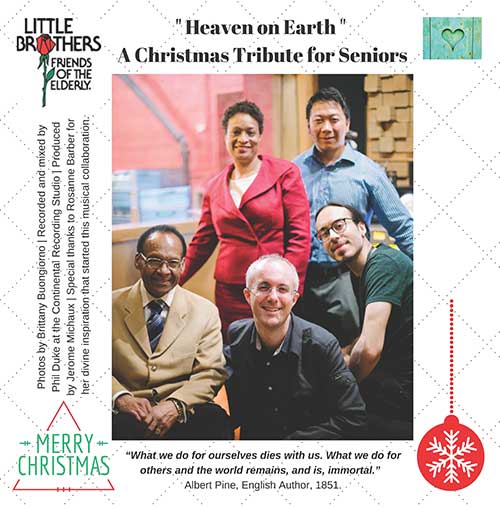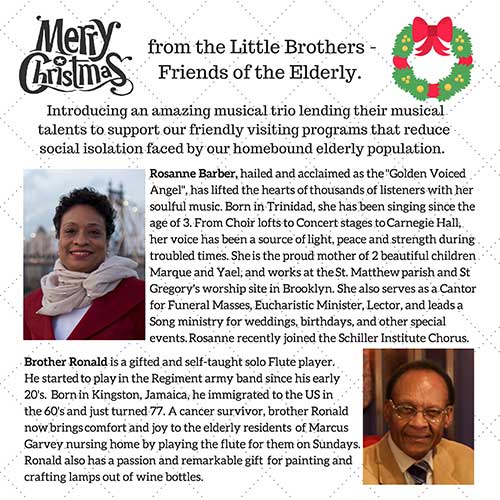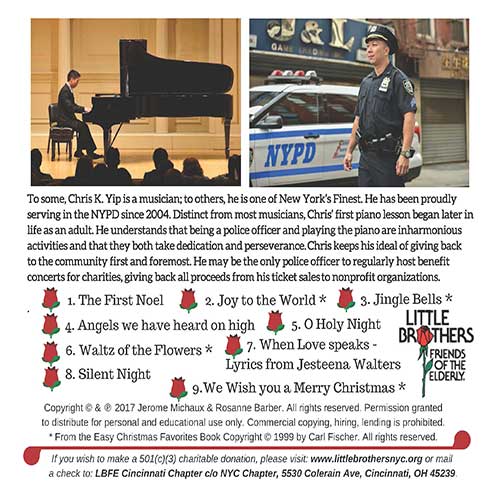 Dear friends,
Our first musical collaboration, entitled "Heaven on Earth," was initially inspired by Rosanne Barber while cantering at a funeral mass this past July at St Gregory the Great church in Crown Heights. Her angelic voice brought comfort, peace, and strength to the entire congregation. A few days after this gathering, Rosanne Barber called Jerome Michaux to talk about an opportunity to record and produce a Christmas CD Album ministering to the homebound and isolated seniors in our community in a spirit of love and friendship.
From the original inception until the production and release of the final CD 5 months later, this has been quite a journey and at times a roller-coaster-ride. From finding other musicians – thank you Brother Ronald and Chris Yip for volunteering your time and talents for this cause – to fundraising, scouting a recording studio, and for all the help of like-minded friends and volunteers that made this project possible along the way, we are grateful.
This Demo CD is our first attempt at bringing the joy and hope of Christmas through music and friendship to seniors suffering from isolation and sickness. It is our gift to them this Christmas season.
On December 21st, Little Brothers volunteers and drivers personally visited and delivered 50 Christmas gift bags and CD to remind our elderly friends and neighbors they are remembered and cared for, listening with them these timeless Christmas classics.
Thank you very much Deacon Georges and Estella Caesar from St. Gregory's Luminaries of Hope Ministry for your kind assistance with the pick-up, assembling and distribution of some of the gift baskets during our annual Christmas outreach.
Thank you kindly also, Caroline Andersen, at BloomAgainBklyn for bringing joy and honor to older adults through the donation of 50 beautiful floral arrangements.
We hope you enjoy this soulful music as much as we do and share it with an aging neighbor, relative and someone else that needs to be lifted up during the holiday season.
Wishing you all a Merry Christmas and a Happy New Year!
With love and gratitude,
Jerome Michaux and Rosanne Barber
If you would like to support the cause of the Little Brothers – Friends of the Elderly further after listening to the digital version of our CD, please consider visiting our donors page by clicking on the button below